Meet The Pan Chenghui Family
The Problem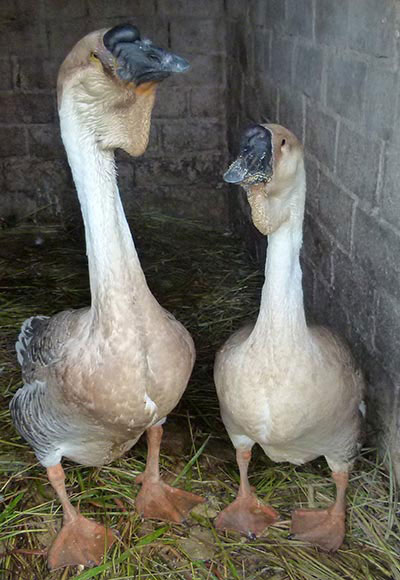 Guizhou Province has long been considered one of China's poorest provinces and poverty among more remotely located rural farmers and households is still an issue. Incredible progress has been made by the Chinese Government putting in place roads and other infrastructure, however, in more mountainous locations families are still struggling to increase their monthly cash incomes.
Duoji and Daxi villages are neighbors and part of Kaili Township. All villagers are Miao minority with a third of the population needing to become migrant workers to survive (meaning they leave the village to find casual construction work in the cities).  In many cases this means waiting on the side of the road hoping that a van comes past looking for laborers that day.  It is neither constant nor reliable work.  For most families, what they earn away from the village is the only cash the family receives with everything else being barter based.  Back in 2011, when we first assessed these villages, the average total income (including migrant earnings) was RMB1700- per person annually (US$285 per year). They needed something more in order to bring them across the poverty line.
Welcome to our Kaili Village Development Program – a 5-year program focused on ending poverty for three neighboring villages in Guizhou Province, and it's 400+ families.
Our Solution
February 2012 saw Captivating International enter into an historic partnership arrangement with Heifer China. Since then, we've been working together to end poverty for hundreds of minority families in the region. This project, scheduled to conclude in 2016, brings hope and a poverty-free future to up to 450 families with family incomes expected to more than double in real terms. Some of the key things this program is achieving are as follows:
Family incomes are increasing as a result of small loans advanced to each family for the purpose of developing home or village-based income producing businesses. For example: pigs, chickens, agriculture, horticulture, cows, geese and ducks;
Expertise is being provided to help families improve yields, control diseases and other potential risks to successful business ventures, and encourage the adoption of new initiatives;
One third of the total program budget covers training on critical components. These include life skills, savings and budgeting, community social programs to support those unable to help themselves, sanitary and hygiene, and environmental protection;
Once a family achieves their business goals and is able to pay back their loan, another family enters the program (as part of the "pass on the gift" program philosophy).
The program is now in it's final stages of implementation. Our thanks to all those who have partnered with this program since it began in 2012.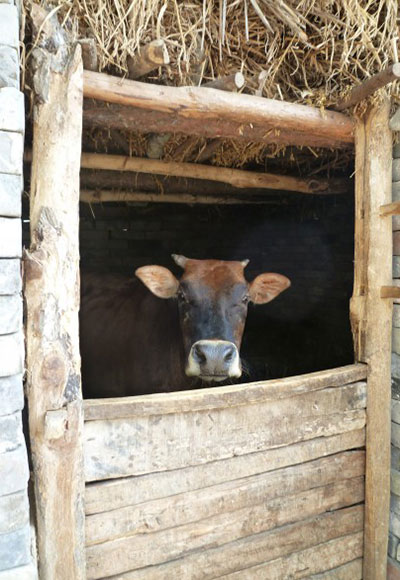 Meet The Pan Chenghui Family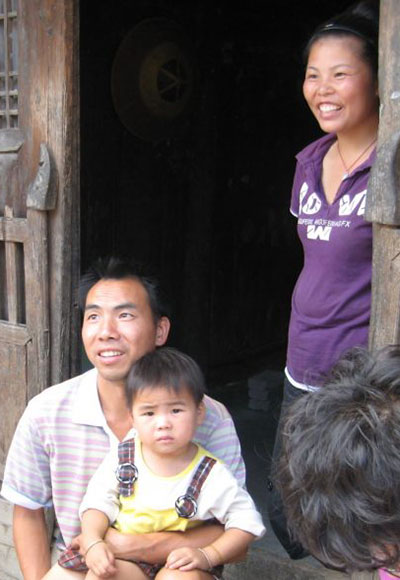 Pictured here is the Pan Chenghui family. Husband, wife, and their 3-year-old daughter. They also have a 4-year-old son. This picture was taken in 2012 just after the project commenced.
Before the Kaili Village Development Program, Pan and his wife worked in temporary and inconsistent jobs in the city, leaving their children at home with his father. But, a short time later his father passed away. Returning to the village to bury his father, Pan had no choice but to make the decision to leave his wife and children in the village and return to the city for work.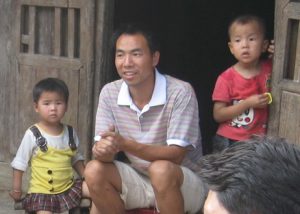 Thanks to the Kaili Village Development Program, another option became possible for the Pan Chenghui family, enabling them to remain together in the village living with the hope of creating sustainable income from their soon-to-commence animal husbandry business.
Move forward 4 years and Pan has become a model example of program success in the village, helping not only his family but guiding others through his positive example. At the interview when this initial photo was taken, Pan told us that his children didn't know the taste of meat with their only protein coming from an egg they would have once a week. Life was about to change for them. It is with a greater hope Pan and his wife will see their two children complete high school and live poverty free lives. Now they're all smiles.
You can read in our Blog below many stories of how families have started to improve their lives, thanks to the start this program has provided.
The Kaili Village Development Program concluded in June 2016;
Our thanks to our many supporters who got behind this program.
No projects require funding support at this time
Thank you to our project partners