Meet Chuga Charity School
The Problem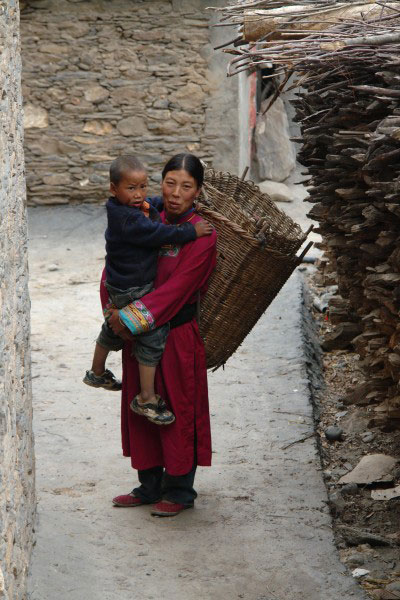 Every village we have dealings with has a list of project possibilities. Because Captivating is primarily focused on the advancement of children, not all projects a village requests meet our project criteria. But there are some which stand out as being clear and important needs that are worth dedicated effort and financing to set right.
Many times, the solutions are significant in investment and need to be implemented on a scale that benefits everyone in the village, not just a few selected families. For example, Greenhouses to address poverty. Consequently, the budgets can get high and out of reach for many.
So, why Small Budget Projects? A constant question we get asked is "we'd like to support something as a family – do you have anything that we can do that is reasonable in budget, that is fully funded by us, and that makes a real difference?" It's also common for us to have schools wanting to engage their students in a "within-reach" financial budget that can be achieved through bake sales and other school activities. But, they want a project that they are the only financiers so they feel a sense of ownership.
Welcome to our Small Projects page – projects that have total budgets within range of families, schools, and small businesses.
Our Solution
The sweet spot for Small Projects at Captivating is where a total project starts around US$1,000, and where the direct beneficiaries are the children of a village community, school, or orphanage. With this level of budget, we are not addressing key barriers to progress (such as addressing family poverty,) but we will be addressing a gap that exists in a child's life that will potentially hold them back from doing as well as they could.
To date, our small budget programs have fallen into four broad categories:
Books, libraries and reading rooms – many children are going through their childhoods with no access to wonderful, bright, and creative books to read. This is having a detrimental effect on their learning, development and motivation.
Summer School Tutor programs – children in remote locations can easily fall behind in school with studies showing that it's possible that by Grade 4 poor rural children are already 2 years behind in their schooling. These children will eventually become school dropouts. Using university teaching students, we can support vacation based tutoring for children slipping behind – to get them back up to speed and stay in school longer.
Our Healthy Village programs – basic health and understanding of STD's, AIDS, women's health issues and caring for your child are important matters that are not so well understood in nomadic communities. We can address that.
Basic clothing, shoes, blankets, toys, and sporting equipment – sometimes it's the very basics that are missing that can make all the difference – bringing warmth in cold winters, and skills learned through sports.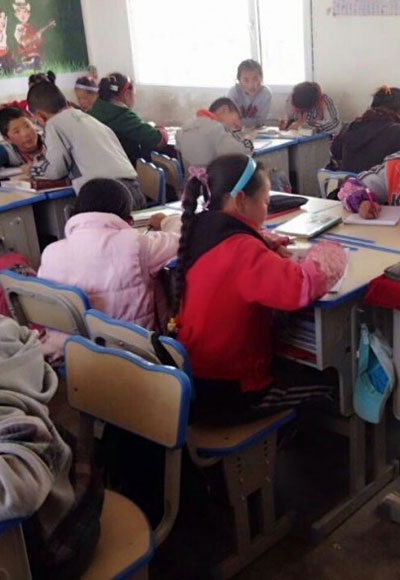 Meet Chuga Charity School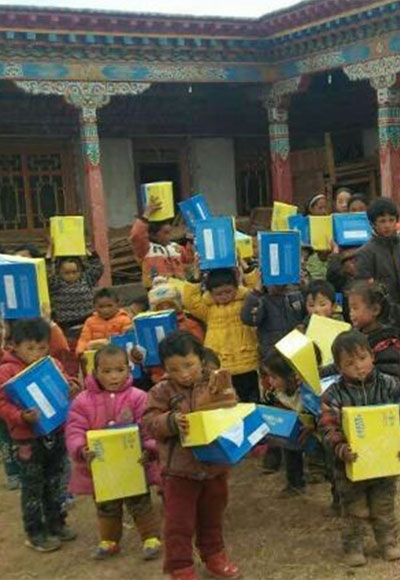 Chuga Charity School was founded in 1996 by a local well respected Lhama named Gabo. It was established to help local orphans and children from poor families, who are struggling for their children's fundamental education. This school has taught grade one to five since it started and there are 142 students (over 100 are girls) and 5 volunteer teachers at the school. They are taught Tibetan, Chinese and Math.
142 pairs of books were purchased, which provided a new pair of warm boots to every student at this school. This was a wonderful gift to the children at the beginning of a new semester, and they were really excited about it. As soon as the children arrived at the school, one after another, the principle Lhama started organizing them for the boots distribution along with all the teachers. The children were very happy to receive the boots, and it was a wonderful surprise for them.
The school principal said the following to us. "The children at our school either come from very poor families or they have lost their parents.  It is usually very cold here and the children need warm clothes and boots for keeping warm. But, to receive NEW boots – all the children feel very special and proud."
Thanks to Baia Restaurant in Shekou, this project has certainly brought relief and joy to 142 children.
Some small budget projects still to be sponsored:
Women's Health Training – Shengge Village, Qinghai

– US$850 – 80 women in this impoverished village will receive basic medical and hygiene training on important health topics such as basic hygiene, women's issues, caring for infants, and STD's/AIDS;

Women's Health Training to Tanggu Township, Sichuan

– US$1,200 – 200 women in this impoverished village will receive basic medical and hygiene training on important health topics such as basic hygiene, women's issues, caring for infants, and STD's/AIDS;

AIDS education and prevention project, several rural locations, Guinan County, Qinghai

– US$2,100 – 350 people spread over 7 village locations will receive training on all AIDS-related matters from awareness through to control and prevention.
To be matched with a project, contact andrewc@captivating.org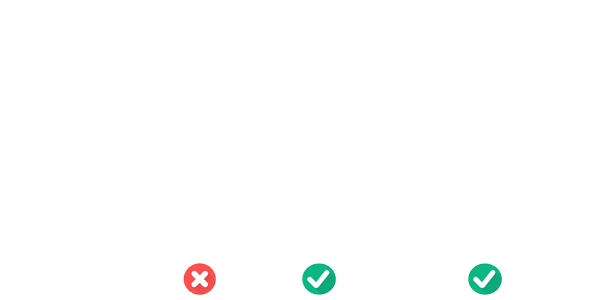 Latest News for Small Budget Projects
10 March, 2017
Vacation Summer School for 150 students - thanks British Chamber of Commerce, Guangdong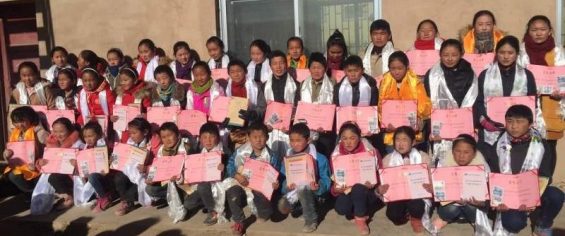 From July to September of 2016, the Maxiang Township received books, learning resources, and a 21 day summer camp. 150 students turned out to receive intensive training and extra education to bring them...