Meet Flora, Michael and Jeremy
The Problem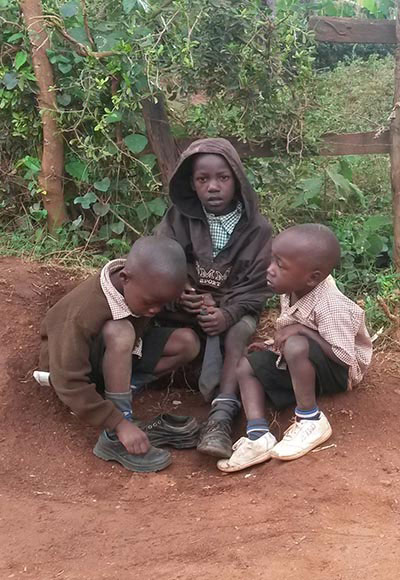 A staggering 10% of Kenyan children become AIDS orphans;
Thankfully, lots of Kenyan families are willing to foster a child;
The problem? – these families can't afford an extra mouth to feed and send to school;
Rather than a welfare handout, we're helping families increase their monthly incomes;
Captivating microloans are bringing stability, hope, AND a family to orphaned kids.
Living in rural Kenya means there is a good chance you are struggling with poverty. With average families consisting of 10 people, including grandparents and 4 or 5 biological children, each day is a hand-to-mouth existence. 80% of families are agricultural farmers working an ever-decreasing plot of family land.
Added to this is the problem of an increasing number of children becoming orphaned. AIDS is claiming the lives of so many parents EVERY DAY. Because of this, one in ten children will become orphaned. The result – more orphans needing to be absorbed into already strained next-of-kin families, or these children becoming another Child Headed Household (CHH) statistic. It's staggering.
So, two major problems – FAMILY POVERTY and AIDS ORPHANS WITHOUT A FAMILY.
We can address these TWO PROBLEMS with ONE SOLUTION.
Welcome to the Captivating Foster Families Loans Program.
Our Solution
African culture values family like no other. Also along with this culture is a strong desire to support their local community. Herein lies one of our greatest opportunities to address the critical issues facing orphaned children.
If you take a poll of a room of Kenyan adults asking them whether they would be willing to foster a child into their family, many would respond favorably. However, the very next point is where it all stops.  They can't afford to do it.
We see a huge opportunity here.  Captivating is not so excited about the typical large orphanage model. Experience will tell us, a child responds better when they are in a smaller family unit – having to live and adapt to normal family life with it's rules, obligations, chores and everyday family struggles. But how do you make this happen?
One option (the easy one) is to offer a welfare handout to a family in exchange for them fostering a child.  In Kenya, raising a child costs around US$50 a month to feed, clothe and send to school.  There are positives to this approach (it's easy and it's personal, if a donor somewhere in the world supports this child). However, it also brings with it challenges of a growing welfare dependency not just by the family, but by the child. This has significant long-term consequences.
We see a better way. 
Captivating, in partnership with a wonderful grassroots organization called African Community Development Foundation (ACDF), has developed and implemented a microfinance program specifically focused on increasing the income of families who are either already fostering an orphaned child or indicate a willingness to do so. Our aim, through a well managed microloans and support program, is not only to increase family incomes enough to support the costs of an additional child, but to also better stabilize the existing family unit. So, the whole family and the orphan benefit.
Having run this program since 2013, our results show the following:
80% of families who approach us already foster a child;
50% of these families who foster have taken in a child not related to them (confirming for us the strong community spirit to help orphans whether they are related to them or not);
This program is self-sustainable (meaning, interest from loan repayments is enough to cover program expenses);
New orphans have been taken in by loan families after commencing in the program;
This program has now completed it's pilot stage with over 300 families in the program and nearly 300 orphaned children in these families. We are confident the program is working. We are ready for more.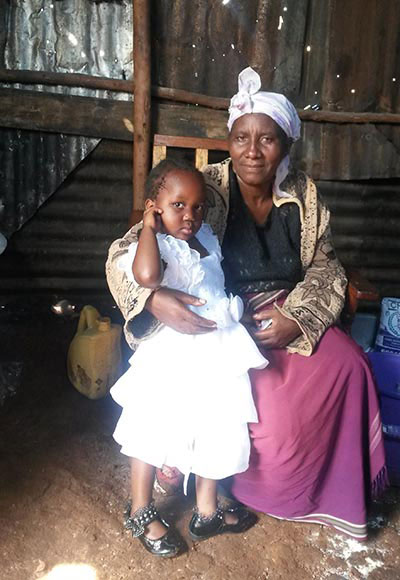 Meet Flora, Michael and Jeremy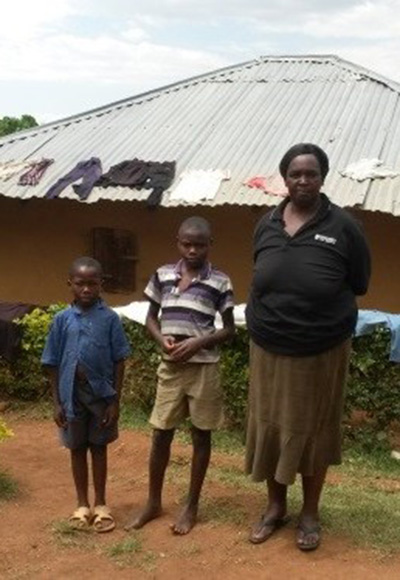 Meet Flora and her two adopted children, Michael and Jeremy. Michael and Jeremy were orphaned as toddlers when both parents died from AIDS. These little boys had no where to go so Flora took them into her home with her husband and their six biological children. This created an additional financial burden for Flora and her family. How were they going to provide for all these children?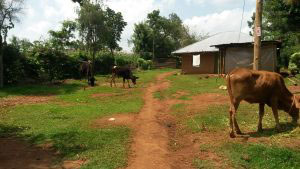 In 2013, Flora came to the Captivating/ACDF Microloans Program with her plight and she immediately entered the loan program.
Flora started with the purchase of just one cow. She then dedicated herself to a savings program on a weekly basis which enabled her to buy two more cows. Today, she is the proud owner of three healthy milking cows. These milking cows provide milk for her family with the excess milk being sold to the local dairy. Flora also has the opportunity to breed the cows for extra income.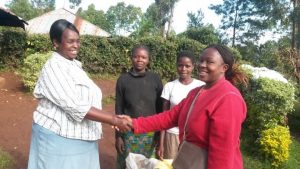 Three years ago she also began with just a small maize field. Today, Flora is a small scale farmer planting acres of maize to sell commercially and made the decision to rent more land. In a month she can sell up to 6 sacks of maize making an average profit of 5400 shillings [US$50] each month.
Today, Flora's biological children are older and all at boarding school. This year Michael will be finishing primary school and begins secondary school next year. Jeremy will continue his primary school education.
AND THE BEST NEWS OF ALL:  Flora has repaid all of her loans and now operates independently and self-sustainably as a successful business woman. Together with her husband's income from teaching at the local school, she is confident that they will be able to continue all their children's education and be able to provide a bright future. Flora is one of our treasured success stories of the Captivating Foster Family Loans Program in Kenya. We are so proud of Flora as she continues to work hard to provide for her biological children as well as her adopted children, and thankful to the dedicated work of our partner, ACDF and Captivating's Program Manager – Everlyne Onwonga.
This program does not require further funding at this time
Latest News for KENYA - Captivating Foster Family Loans Program
Thank you to our project partners