The Problem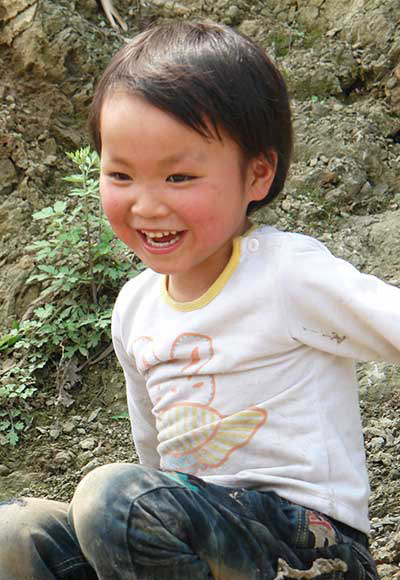 Living in a rural community in Qinghai Province, China, has many wonderful features – beautiful scenery, wide open spaces, star studded nights and usually, close family connections. Unfortunately, it also has lots of limitations. If you're a girl from a poor rural family, there's a good chance you will never finish high school. It's not just because of poverty. In fact, the major challenge is that many families in rural traditional locations still place less economic value on the education of girls. When a tough choice has to be made between siblings, it's the son in a family who will still likely be the one chosen to continue his education, while the girl helps to provide for him and care for her family back home.
So, what are the key reasons girls are still missing out on senior high school?
In China, education is tuition free up to Grade 9. In some places now, even senior High school is tuition free thanks to incredibly progressive schooling policy by the government. Still, total education cost (including boarding, transport, living costs) are too expensive for a rural poor family. The return on investment needs to be certain – and families quickly conclude it is not;
Opportunity cost factors add to the cost of education. If the girl was not in school, she would be earning money, or laboring on the farm at home allowing parents to work in the city;
Parents might be sick or caring for aging grandparents – the girl is an easy choice for caring for them;
Some girls don't want to continue their education. The pressure and stress felt by girls who feel the weight of the cost of their education on their poor parents prefer to quit (they believe this is what their parents hope they will do, but their parents are too nice to say);
Finally, for many, they do not believe they are doing well enough in school to warrant continuing. This is a combination of factors ranging from quality of the teachers to poor nutrition, anemia and motivation. "If they can't do well", they reason, "what's the point."
All of these factors combine to increase significantly the prospects of a girl never getting to realize her dream of being an educated woman and of having her dream job in the future. As covered on our Educate Girls page, we know that an educated woman will be of considerable value not just to herself, but also her family, community, and the next generation. In fact, research would suggest she is a better investment than educating her brother.
Our Solution
Seeing the reaction of a girl being told that she can complete vocational high school is priceless. The Vocational School Scholarship program is an opportunity for Captivating and our partners to economically see more girls into vocational school programs.
Education past Grade 9 is expensive to a rural family in China. Total costs including tuition, boarding, food and travel costs can easily amount to RMB12,000 (US$1,800) per school year. Multiplying this over a 3 year high school program, total costs to a rural family can easily represent 10 years of average earnings if you also take into account the income lost if the girl was working instead. That's a big call for a family. Still, many families decide to support their girl by taking on considerable debt that could take the rest of their lives to repay. We have full admiration for these families. However, for many girls, Grade 9 (or even earlier) is the end of their schooling journey.
Here's the good news: The Chinese Government is progressively implementing solutions addressing the schooling program for rural families. The scale of their solutions are amazing. They offer subsidies and free tuition to many qualifying poor families now. These subsidies reduce significantly the total cost and will have the desired impact for many. HOWEVER, for the poorest in a rural community, even this subsidized gap is still out of reach. This is where Captivating steps in.
In partnership with the Shenzhen Charity Federation, implementing partner Shamtse Charity and financial partner ZURU, Captivating will be supporting 300+ qualifying girls a year by doing the following:
We will fund 80% of the total schooling gap (any amount remaining after govt subsidies);
To qualify, a girl must have already dropped out of middle school due to either poverty or prejudice on the part of her parents/guardians;
Girls will be selected based on past academic performance, their personal drive and commitment to finish the 3 year program, their family situation, and past teacher recommendations;
Girls will receive regular contact by our Captivating partner (SHAMTSE) including encouragement and some mentor support;
Each girl will require a financial sponsor to be able to commence. Sponsors will receive an initial story on the girl. Each year the girl will write a personal thank you letter to her sponsor and sponsors can write to her. Captivating will provide a 6 monthly update on the total program;
Support will be on a year-by-year basis subject to her continuing to work hard in the program (and continued support by a sponsor);
Upon completion, she will transition into her first job and we will see how she is going 12 months later.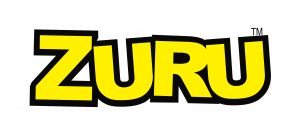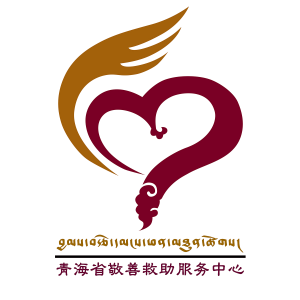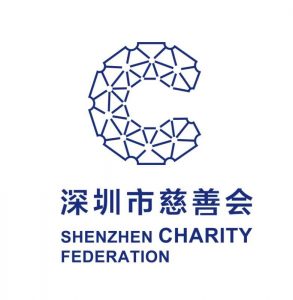 Project Partners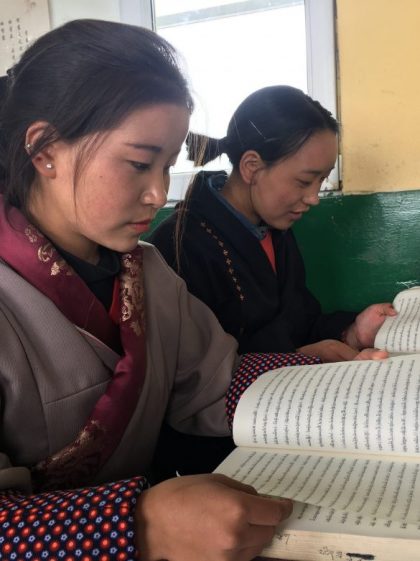 Meet Jayang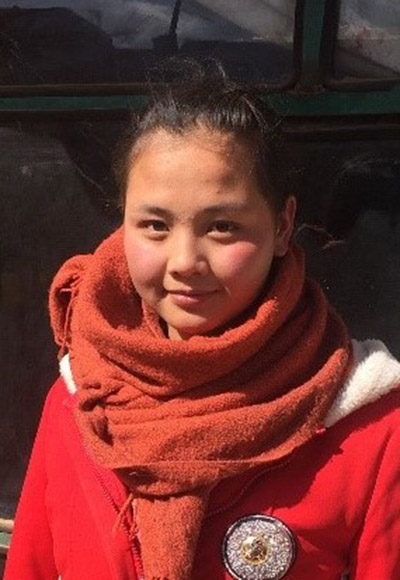 "My name is Jayang, I am 26 years old and from Qinghai Province. I have lived with my grandmother ever since I could remember. She is the only person who cares about me in my life. She has many children and she used to ask money from her children to send me school until I got to grade two at middle school (grade 8 equivalent)."
I know I am a girl with poor destiny and I understand my grandmother struggled to send me to school. Many times in the past I decided to drop school and stay with my grandmother so I could take care of her, but every time I mentioned this to her she would get very angry and impatient.
My performance at school was good and every semester I would get a prize to make my dearest grandmother happy. My grandmother was very proud of me and she always kept saying that I am the best gift in her life, ever. I was about to do finals at school last year in November 2015, when my dear grandmother left me. She passed away before I could finish the finals and I went home without taking finals for the second semester of grade two at middle school.
Not long after grandmother passed away, I got very sick and my uncles had to take me to a hospital that is near to a monastery. I saw many young boys learning medicine at the monastery and they are so happy with friends and teachers. I hoped I could have a chance to learn medicine and could help those who need help like my grandmother and myself. Now I am recovering well and I really want to start my school, but I am very sure that my uncles would not help me with this. If there is a possibility to give me support to learn medicine at a vocational school, I would try my best and I would help others to pass the passion and motivation to others like myself."
Jayang is sponsored by Jared and Shannon. Thank you both for giving Jayang a future. She started her studies in September 2016. Jayang is studying Medicine and is so excited that her dream is coming true.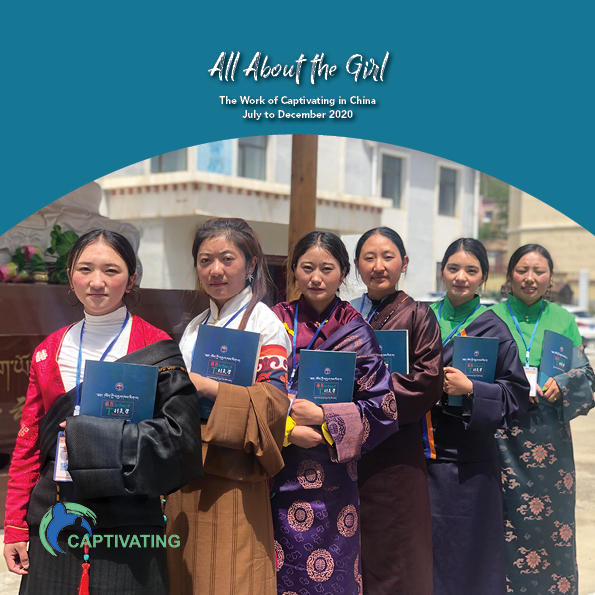 All About The Girl Update – July to December 2020
Go to Captivating Publications for all of our updates and reports.
Get Engaged:
Support a girl through vocational school – US$40 / A$55 per month (for a 12 month or more period)
Contact us for more details –

sponsorship@captivating.org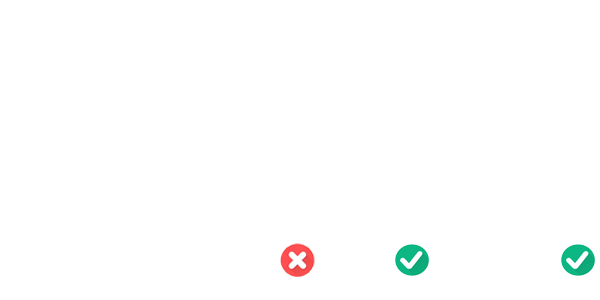 Latest News for CHINA - Vocational School Scholarships
Thank you to our project partners