26 May, 2022
CHINA
Teacher Cai
My name is Cai Mingyang, I am a volunteer teacher at Abojue Aimu Primary School. I have been teaching here for more than two years. Before this, I was a college student at Tianjin Normal University; also, I served in the fourth detachment of Armed Police Xinjiang Contingent as a police officer. Looking back to every place I went, I felt both so lucky and reluctant to leave. Then, I was even more fortunate to join this large volunteer teaching family, and come to my beloved Abojue Primary School. Everyday here is fulfilling, filled with the warmth and heat of life.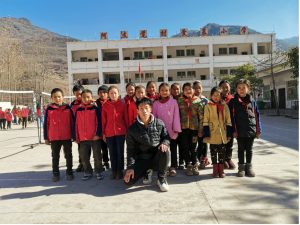 SAVED BY A TEACHER
Every volunteer teacher comes here with a purpose. Every one of them have goals they want to achieve, motivated by different ideas, and so do I. The reason for my choice into volunteer education might be simpler. I still remember that my health was not good when I was a child. At that time, we were still day students and needed to go home for lunch. It was about third grade, when I passed out because of the heat on my way home at noon. All I thought about was going home, so I struggled to continue crawling. Later, a visiting teacher found me and carried me home. I still do not know who that female teacher was. How I want to say thank you to her! From then on, I was more diligent in school, and I cherished and thank every teacher of mine.
SOWING SEEDS OF LOVE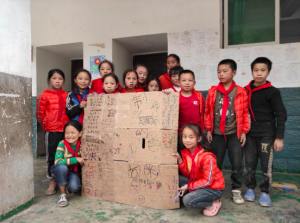 When I was in middle and high school, the financial condition of my family wase not good, so I could only work harder. I can still vaguely remember the help I received from many different people.  As I grew up, I became more and more willing to do something helpful for others, even if it is insignificant. Yes, I have had love passed on to me by people who helped me. I want to pass on this love, to sow the seed of love. If this love grows into a little grass, it can strive on its own; if this love grows into a big tree, it can sow more seeds, and at some time in the future, they will continue to blossom, continue to spread. I chose to be a volunteer teacher because I was deeply convinced and moved by a paragraph in a volunteer education principle: "The children of the mountains have their own happiness. We do not need sympathy, but respect; we do not need patronising love, but teaching the children to love; we do not need airdropped aid packages, but communication of equality and dignity. Before the children are able to go out to explore, you and I guarantee high- quality education to their homes." 
---
Being able to go to school and get an education is important for the future of these children. They live a very simple and basic life and work very hard to support their daily needs. When they have teachers at school who believe in them and help them see their full potential, it makes all the difference.
WILL YOU HELP US MAKE THE DIFFERENCE?


Thank you to ZURU for underwriting this project.

64 SHARES