The Problem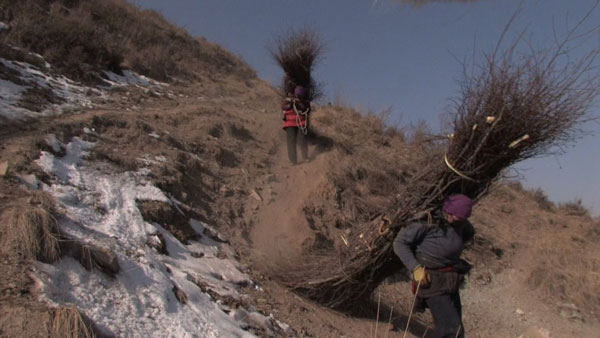 If you live in remote mountainous locations, there is a good chance you are living off the grid. This means no electricity. Or, maybe you have electricity connected but, when you live below the poverty line, using it is simply too expensive. This presents the following challenges:
We know that education is the key to a poverty free future for children. Once darkness comes, study stops and these kids start falling behind, increasing their chances of dropping out (only 37% of rural children finish high school). For those who can afford it, candles or kerosene lamps are lit as the only available option, and with it, all of the well-documented health challenges come into play (respiratory issues from breathing in fumes, strained eyes from poor light and smoke);
To cook and boil water, you need a fire. One of the key duties for mom and children is to forage for wood (becoming harder to find) or drying yak dung to use as fuel (incredibly labor intensive). It is not unusual for this activity to take 2 hours a day – time that could be better spent by children studying, or parents addressing their poverty by earning more income;
Families are not drinking enough boiled water. With burning fuel becoming a precious commodity, boiling water is kept to an absolute minimum and with it illness increases;
Paying for sporadic use of electricity, candles or kerosene is an expensive luxury to these families. But, they have no choice. On an annual basis, these added costs could be the difference between their children completing school or having to drop out.
We can address these problems – sustainably – with a low-cost solution. Welcome to the Captivating Solar Panel Program.
Our Solution
Everyone in a remote village setting agrees that a quality solar panel can be the solution to the problems associated with limited electrical supply. A quality solar panel will create enough energy to boil water, cook food, and provide lighting for children to study after dark. The problem is, financially it's out of reach for many families who are struggling to survive living below the US$2.20 a day poverty line China has identified. We can bridge this gap.
Our solution is very simple, easy to implement, and it is easy to assess its impact. Here's what we do:
Families will be from a village community that is assessed as being "impoverished";
All families in the village are given the opportunity to join the program;
Families MUST put some 'skin in the game' by making a financial contribution to the purchase cost of the panel (this ensures only motivated families receive a solar panel);
Captivating supplies technical training to the families to ensure the longevity of this project. At least one person in the village will be trained on how to service and maintain the panels;
Captivating will follow-up on the project 12 months after implementation to assess it's impact.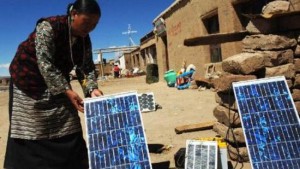 Having a solar panel will mean money saved by the family each month by not having to pay for other electrical sources (existing electricity supply, buying of candles, kerosene and other alternative fuels). Children will also have more time to study.
This simple solution will result in families being able to keep their children in school for longer, not to mention the ongoing health and environmental benefits.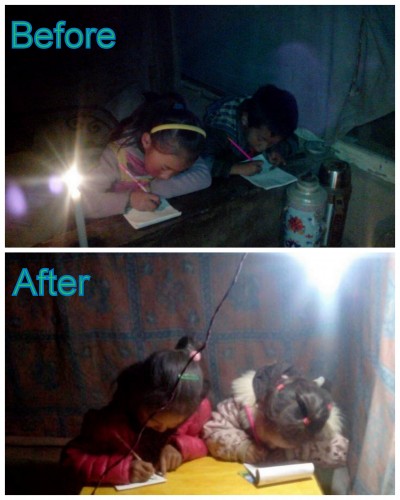 Meet Lhajyid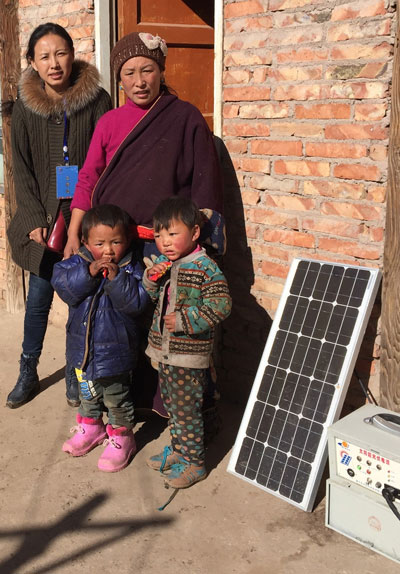 Lhajyid, a 38-year-old woman has been taking care of her two little children and her aunt. Her aunt (bottom left of photo below) has been crippled since birth. Lyajyid has a 6-year-old daughter who should to be at school, however, her husband is away working at a restaurant and she has to take care of the rest of the family at home. She can't manage to send the children to school because the school is around 14km away (and boarding school is too expensive), so the children are at home.
"I have been taking care of my father's younger sister since I could remember. My parents passed away one after another before I turned to 33. This is where we live in the winter and we have to move to summer pasture to herd, where we feed our 20 animals there. We do not have power either at this winter pasture or summer pasture. It is very difficult without a lighting system in the past. Sometimes I can get candles when my husband gets home, but most of the time I have to do the milking and cooking without light. I could handle it most of the time but my aunt finds it very difficult. We have hoped to afford a solar panel in the past but never got enough money. I've always dreamed that if I got a solar panel I won't have to collect bushes for cooking all the time and my children and aunt will find life easier as well.
Now I have a solar panel thanks to your support. This solar panel has lightened my life indeed. I do not have to collect bushes for boiling water all the time and we also do not have to burn candles and goat fat for lighting. Thank you very much for helping us!" Lhajyid said with tears.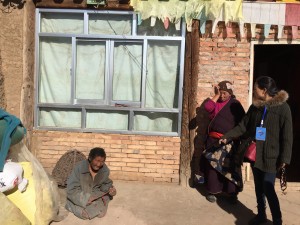 There are currently no Solar Panel projects that require funding