END POVERTY
Connection Strengthens our Philippines Microfinance Programs
Aside from providing loans for Filipinos through our microfinance program in the Philippines, one of the things we aim to do is start fellowship groups so we can provide the microfinance beneficiaries the necessary moral and emotional support as they start their small businesses.
We are grateful for this community and how they have been faithful to their obligations and to our policies. This is now the 6th group we have opened in the area of Barangay Roosevelt in Metro Manila. We want to recognize areas that are performing well by prioritizing them in our journey to growth.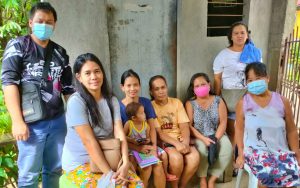 We are thankful for the dedication that our field partner, Honor 1000, has given to this initiative to promote values to scale the group's financial commitment but also their moral standing.
Our fellowship groups are avenues to strengthen the community and foster harmonious relationships with the mothers. We believe that mothers can be agents of change in their communities.
---
Help More Filipinos Break Away from the Cycle of Poverty
With your support of 
AU$385/US$270
, we will be able to provide a Filipino mom with a small business loan. Click on the links below to know more.


Our Partners